Elders Supports Support Workers
(Part-time/ Casual)

Released: 2023-09-18
Fort Liard, Northwest Territories

Encouraged to apply if you are interested in working outdoors in supporting the Elders of Acho Dene Koe First Nation. This position reports to the Assistant Band Manager. The Elders Supports Support Workers [Outdoors] is a personal support worker and is someone who looks after the physical and emotional well-being of clients who are not able to do so themselves. In the winter performing of cutting of wood, shoveling of snow, routine housing maintenance, and other physical labor as needed.

Starting Wage: $20 to $23 per hour

Application deadline:  No deadline; persons hired upon application and screening

ABOUT THE REWARDS
In exchange for your hard work and dedication, you will be rewarded with a competitive salary as described with each position based on your education and experience. After successfully completing the first three months of employment, you will be eligible for a comprehensive employee benefits package that includes:
100% employer paid Extended Health, Dental, Vision benefits, Short-Term, Long-Term, and Life Insurance
Family and Employee Assistance Program
Registered Pension plan with an employer match
 
This is a great opportunity to contribute at an exciting time of growth and changes within Acho Dene Koe First Nation and to be a part of a team that creates a place that supports growth and promotes the values of the Acho Dene Koe people. If this opportunity matches your values, education, and experience, please send a resume to administration@adkfirstnation.ca or bring into the Band Office to the Assistant Band Manager – Margie Lomen.

We thank all applicants for their interest, however, only those candidates selected for an interview will be contacted.
Job Overview
Job Title

Elders Supports Support Workers

Employment Type

Part Time

Experience

Experience an asset

Workplace Information

Remote work unavailable

Rate

$20.00 to $23.00 Hour

Education

No degree, certificate or diploma

Professional Category(s)

First Nations Relations
Community Services
Social Services

Date Posted

September 19, 2023, 9:28 am

Expires

October 19, 2023, 4:30 pm
Acho Dene Koe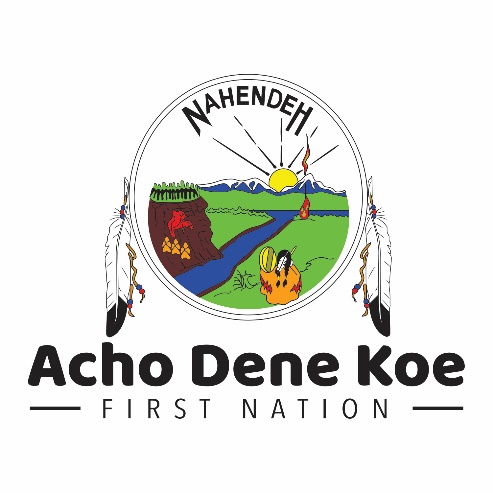 Employer Type

Municipal government