Tsawwassen First Nation

Utility Foreperson
Regular Full Time
Tsawwassen First Nation (TFN), a full member of Metro Vancouver, is making its mark with multimillion-dollar retail, industrial and residential developments on its Lands. These developments are constantly adding new infrastructure to the community. The Utilities Department operates a Class II Water Distribution System, Class III Wastewater Collection System, and Storm Water Drainage with pumping stations. The Utilities Department provides for the cleaning, repair, maintenance and improvements of the community's water and wastewater systems. The collections system currently has 30 sewer lift stations. The primary responsibility of the Foreperson is to assist the Supervisor in overseeing the daily operation, repair and maintenance of the Community's water distribution, wastewater, and storm collection systems, including capital additions to the system. All work is carried out in compliance with the BC Municipal Wastewater Regulation, Canadian Wastewater Systems Effluent Regulation, BC Drinking Water Protection Act and Regulation, WorkSafeBC regulations, TFN Policy, Procedures, other appropriate regulations, and recognized safety precautions. The Foreperson is responsible for the supervision of all employees and equipment assigned to the Utilities Department, ensures compliance with safety requirements, policies, and procedures.  
Responsibilities
Assist Supervisor in overseeing the daily operation and maintenance of TFN's water distribution and wastewater collection systems to maintain compliance with all Operating Permits.
Assist Supervisor to coordinate, oversee and assist, as required in managing the daily operation, maintenance, and repair functions of; the Water Distribution System, (including mains, services, meters, hydrants, the Wastewater System (including sanitary and storm drain systems; repair of sewer pipes, mains, drains, basins, and manholes), and all associated buildings, equipment, and fixtures.
The maintenance of the system includes preventative maintenance programs on system components such as main flushing, main valve operation, leak detection, hydrant testing and inspection, water quality testing, maintain pumping station and sewer lift stations; inspect and check wastewater systems operations; report and repair defects in the systems and other applicable components.
Plan, prioritize, assign, and supervise the work of assigned staff ensuring the day-to-day responsibilities are performed in a safe, timely and professional manner; assist Supervisor to establish schedules and activities; identify resources needed in consultation with the Utilities Supervisor and allocate resources accordingly to staff.
Utilize web based and/or mobile app-based work management systems to track, prioritize, and schedule work, as required.
Perform evening and weekend on call duties on a rotational basis as scheduled by the Utilities Supervisor.
Assist Supervisor with preparing Water Distribution and Wastewater Collection System, infrastructure (valves, manholes, pumps, fire hydrants, etc.) condition and maintenance records and reports.
Assist Supervisor with costing and budgeting of repairs and upgrades.
Order daily supplies as required on construction and maintenance activity job sites and monitor division inventories.
Assist Supervisor in managing personnel issues such as performance, discipline, time keeping, and sick leave as required.
Keep Supervisor informed of all personnel issues and assist Supervisor when Supervisor interaction is required.
Train and provide guidance and leadership to assigned staff.
Assist Supervisor in responding to public inquiries in a courteous manner within scope of knowledge and authority, provide high quality customer service as required, with direction from the Supervisor.
Assist other departments within TFN, within the scope of personal qualifications and abilities, as required.
Attend meetings and maintain close working relationship with members within the department to ensure continual exchange of information with on-going activities; provide status reports related to on-going activities to the Supervisor.
Participate in departmental and TFN's organized training and development activities, in addition to attending career development training, as directed.
Other assigned responsibilities within the scope of the position and personal qualifications and abilities.
Qualifications
Completion of grade 12 High School or equivalent.
Technologist or technician certification in a related field considered an asset.
Class II Water Distribution Certification and Class III Wastewater Collection Certification or the ability to obtain both within 3 years of being awarded the position are required.
Minimum of five (5) years experience working in a related position.
Experience with record keeping, bookkeeping, material handling, and documenting and writing reports.
Basic knowledge and/or demonstrated ability in management principles.
Experience with web-based work order planning systems, record keeping, bookkeeping, material handling, and documenting and writing reports, an asset.
Competent in the use of computer business software (Excel, word, Adobe) and smart phone skills.
Supervisory training and/or experience, an asset.
Knowledge of Occupational Health and Safety Act and WorkSafeBC.
Working knowledge of Workplace Traffic Control (TCP).
Knowledge of underground piping and services installation and repairs.
Extensive knowledge in the operation and maintenance of water distribution and wastewater collection systems.
Knowledge of assigned equipment, materials, tool, and procedures relevant to the work.
Ability to communicate effectively, maintain positive public relations and excellent problem-solving skills.
Ability to work in a team environment displaying leadership, positive work ethic, integrity, and the ability to follow direction effectively.
Ability to effectively prioritize workloads and meet required deadlines.
Must complete a Criminal Records Check.
Working Conditions
Primarily in the field assisting and supervising Utility crew. Will work with other Lands and Engineering department personnel.
Heavy lifting and manual labour are involved at times.
Works outdoors in all types of weather.
Some office work with computers and basic office software knowledge.
Planned and unplanned evening and weekend work when required.
Salary: 
Competitive salary commensurate with qualifications, plus a comprehensive benefits package including automatic enrolment in the BC Municipal Pension Plan.  
Open Until Filled
Please submit your resume to
https://scouterecruit.net/jobs/TSAW5
We wish to thank all interested applicants; however, only short-listed candidates will be contacted for interview.
Pursuant to the Tsawwassen First Nation
Government Employees Act
, first priority in hiring among qualified applicants will be given to Tsawwassen Members, second priority to spouses (as defined in s. 3 (1) of the BC
Family Law Act
) of Tsawwassen Members, and third priority to members of other First Nations. If you fall within one of these categories and you wish to have this voluntary information considered as part of your application, please indicate the applicable category in your cover letter.
Job Overview
Job Title

Utility Foreperson

Employment Type

Full Time

Employment Length

Permanent

Experience

3 years to less than 5 years

Workplace Information

Unknown

Education

Other trades certificate or diploma

Professional Category(s)

First Nations Relations
Sewer & Wastewater Services
Water Services

Date Posted

September 7, 2023, 10:45 am

Expires

December 31, 2023, 4:30 pm
Tsawwassen First Nation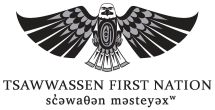 Employer Type

Municipal government