Dawson City, Yukon
Human Resources / Deputy Clerk

We are Looking to for the right person to fill the role of Human Resources / Deputy Clerk with the municipality of the City of Dawson.
 
This is an administrative role reporting the Chief Administrative officer (CAO). The CAO is generally considered a decent person with more good days than bad and a reasonable person to work for. The core functions of the role are responsibility for managing human resources related activities: Recruiting, annual review process and policies, Union Relations and adherence to the Collective Bargaining Agreement, Payroll management, HR policy development, and related projects. The City has approx. 30 FTE.
 
The role provides backup to our Municipal Clerk who is also a decent person to work with and is responsible for legislative services, meeting agendas, minutes, and supporting the CAO and Council. The deputy clerk role provides backup coverage of evening meetings and we do make coffee available to keep everyone awake.
We are looking for a dynamic individual who can communicate well, work well with others, enjoys learning and mastering new roles and tasks, has an eye for details and makes us a better organization. Preferably with a mix of leadership experience in business, institutional, community and volunteer roles and ideally with experience in Human Resources and Municipal Management.

The best part of the role is the location – Dawson City Yukon – the place where people visit for a week and stay for a lifetime - A city birthed by the Klondike Gold rush and now home to 2,100 people with midnight sunshine in June, music festivals, great restaurants, Canada's oldest casino complete with Can Can shows and a unique cultural vibe that is welcoming to all.

If you want something different, a unique place to call home, a lifestyle, an adventure, send us your resume and cover letter demonstrating your mix of applicable qualifications outlined below.
A post-secondary degree or certification in Local Government Administration, Human Resources, or applicable program.
Experience in Municipal administration, Human Resources, Payroll administration, Union Relations.
 
Closing Date: This posting will remain open until filled. Please apply via email to:
 
David Henderson - CAO
Dawson City, Yukon Y0B 1G0
CAO@cityofdawson.ca
 
Salary & Benefits:
Non-Union position, competitive salary Grid
in accordance with the Management Employment Bylaw.
 
The City of Dawson thanks all applicants for their interest. Only those applicants who qualify for an interview will be contacted.
 
www.cityofdawson.ca
Job Overview
Job Title

Human Resources / Deputy Clerk

Employment Type

Full Time

Experience

Experience an asset

Education

College, CEGEP or other non-university certificate or diploma from a program of 1 year to 2 years

Date Posted

May 19, 2023, 9:10 am

Expires

June 19, 2023, 4:30 pm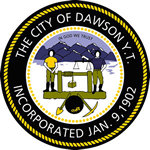 City of Dawson