Dawson City, Yukon
Senior Finance Officer

Are you a CPA looking for something a little different? Is commuting to work eating up valuable hours? Do you enjoy the great outdoors and an incredible amount of sunlight in the summer? What about great restaurants, music festivals, Canadas oldest casino complete with Can Can Shows and a unique cultural vibe that is welcoming to all – just starting your municipal management career or finishing one and looking for a lifestyle - Dawson City is the place where people visit for a week and stay for a lifetime. Never played hockey as a child – no problem – we have leagues that encourage both men and women to learn hockey as adults and have a lot of fun doing it– enjoy sea kayaking, how about a paddle down the Yukon River, a trip to the Alaskan Coast, or a dip in the Arctic ocean - that's the kind of community Dawson City is. Born of the Klondike Gold Rush, populated by adventure seekers from around the world and welcoming to all -
 
We are looking for a Senior Financial Officer (SFO). Reporting to the Chief Administrative Officer (CAO), the SFO is accountable for the overall financial affairs of the municipality and managing the Finance and Administration Department. The core functions are managing 3-5 staff, providing the CAO and Council with financial advice, Budget co-ordination and management, statutory responsibilities under the Yukon municipal act, financial controls, management and reporting. The SFO is the contact with our IT Service Supplier and takes on projects related to the role.
 
We are looking for a dynamic individual who can communicate well, inspire others, and continue to learn and develop as a leader regardless of what stage they are at in their career. Preferably with a mix of leadership experience in business, institutional, community and volunteer roles.
 
If you want something different, a unique place to call home, a lifestyle, an adventure, send us your resume and cover letter demonstrating your mix of applicable qualifications outlined below.
A post-secondary degree in Accounting, Business Admin. or a related field, coupled with a CPA designation.
Experience in finance, management, budgeting, auditing, report writing, policy development, municipal administration and computer programs.
 
Closing Date: This posting will remain open until filled.

Please apply via email to:
David Henderson - CAO Dawson City, Yukon Y0B 1G0
CAO@cityofdawson.ca
 
Salary & Benefits:
Non-Union management position
Salary range of $96,776 - $115,919, plus benefits, in accordance with the Management Employment Bylaw.
 
The City of Dawson thanks all applicants for their interest. Only those applicants who qualify for an interview will be contacted.
 
www.cityofdawson.ca
Job Overview
Job Title

Senior Finance Officer

Employment Type

Full Time

Experience

Experience an asset

Rate

$96,776.00 to $115,919.00 Year

Education

Bachelor's degree

Date Posted

May 18, 2023, 4:12 pm

Expires

June 18, 2023, 4:30 pm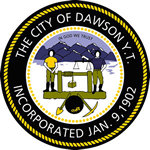 City of Dawson