Métis Nation British Columbia
Records Manager

#23-059
Department of Information Management and Information Technology

Position:          Permanent Full-Time (37.5 hours per week)
Location:         Hybrid/Provincial office – Station Tower (13401 – 108th Avenue, Surrey)
Closes:            Posting will remain open until filled and will close without notice
Classification: Manager 2               
Salary Range: $83,000 - $95,000 annually

ABOUT MÉTIS NATION BRITISH COLUMBIA:
Métis Nation British Columbia (MNBC) develops and enhances opportunities for our Métis communities by implementing culturally relevant social and economic programs and services. Through teamwork, respect, dedication, accountability, integrity, and professionalism, MNBC strives to build a proud, self-governing, sustainable Nation  in recognition  of inherent rights for our Métis citizens, assisting in the delivery of services based on policy, process, and specified regulations.

MNBC's KAA-WIICHIHITOYAAHK (We take care of each other) Initiatives offers employees a competitive total compensation package including:
comprehensive group benefit package or health-care spending account and enrollment in the Municipal Pension Plan
15 paid days per year for statutory and
cultural days (Indigenous Peoples Day, Truth and Reconciliation Day, & Louis Riel Day)
carpool, parking & public transit subsidies (Provincial Office only)
educational spending account and professional development allowances to provide annual funding to continue lifelong learning and skills upgrade.
remote workplace supports.
internal advancement & redeployment opportunities
 
ABOUT THE OPPORTUNITY 
The Records Manager will work across all departments and ministries of MNBC to maintain records and information management (RIM) practices for the Nation.  The Records Manager will continue to evaluate current records management policies and practices, develop an understanding of the movement of records through MNBC, and continue implementation of a RIM program which will enable MNBC to efficiently create, retain, and properly dispose of records.  This position works directly with every department and ministry to oversee compliance and compatibility with established RIM functions and principles. The position reports to the Director of Information Management and Information Technology.
 
KEY DUTIES AND RESPONSIBILITIES
Working closely with the IMIT team to select and implement key software integrations for a SharePoint EDRMS, such as AvePoint, Collabware CLM, etc.
Make decisions regarding the most appropriate methods for storing, arranging, indexing, and classifying records to meet business needs.
Maintain the records classification and retention schedule (RCRS) to meet cultural, administrative, legal, and financial requirements.
Find and retrieve records in response to internal information requests.
Ensure compliance with relevant legislation and regulations.
Advise on highly complex legal and regulatory issues, often involving difficult judgments in controversial areas such as access to information and protection of privacy as well as relevant federal or provincial legislation.
Respond to external information redaction requests (access to information, protection of privacy; Information Sharing Agreements);
Prepare Information Sharing Agreements with external parties.
Standardize information sources throughout the organization.
Identify the most appropriate records management resources.
Maintain records and information management policies and classification systems.
Support the records management policy framework and guiding staff in the management of their records and the use of records system.
Manage the changeover from paper to electronic records management systems, where appropriate.
Preserve corporate memory and cultural heritage.
Draft or update records management policy documents.
Manage and monitor budgets and resources.
Train and supervise records staff.
Advise staff in other departments on the management of their records and information.
Resolve problems with information management by effective use of software and other information management resources.
Advise on departmental software purchases.
Enable appropriate access to information within the network.
Create action plans regarding the clean-up and management of records and information in inactive on-site & off-site storage.
Develop procedures designed to safeguard company records and information assets.
Train facility employees in control methods regarding proper recordkeeping and disposition.
Execute annual department or facility level self-assessment exercises regarding compliance.
Participate in reviews of records retention policies, standards & procedures to maintain accuracy and integrity of enterprise-wide records management initiative.
 
SUPERVISORY RESPONSIBILITIES
Supervise, train and mentor staff.
Ensure probationary review and annual performance evaluations are completed.
Develop and maintain an environment to facilitate cooperation with and amongst the staff.
Ensure MNBC policy and procedures are always adhered to.
Ensure positive communication strategies are used with and among staff and between staff and community members and/or families served.
 
THE IDEAL CANDIDATE
Bachelor's degree in library science, information science, or related degree. Preference given to those with a master's degree in a Canadian Library Association (CLA) or American Library Association (ALA) Accredited program with a concentration in records management.
Minimum of three (3) years of experience with records management work.
Knowledge and/or awareness of the historical and contemporary contributions made by Métis people in BC.
Experience in using databases to do research/provide information.
Experience in using electronic document/records repositories.
Experience in monitoring and assessing compliance in records retention.
Experience in conducting legal and regulatory research regarding all applicable domestic laws affecting retention of information as records.
Experience in tactically applying records management principles and practices, specifically in records retention and disposition.
Results-oriented with proven ability to coach and mentor staff and build an empowered and accountable team.
Provide leadership to all records management initiatives and ensure accountability for the achievement of results.
Analytical capabilities with ability to quickly implement actions to maximize results.
Effective time-management skills with ability to meet deadlines.
Effective attention to detail and a high degree of accuracy.
Able to effectively communicate both verbally and in writing.
Able to build and maintain lasting relationships with other departments, key business partners, and government agencies.
Strong problem identification and problem resolution skills
High level of proficiency with Microsoft Office productivity suite
Experience managing or working on digitization projects is an asset.
Grant and policy writing experience is an asset.
 
 OTHER COMMENTS
Other duties may be assigned as needed to help ensure the efficient operation of MNBC.
There will be a need to attend meetings and events which may require work and travel outside of normal business hours.
Ability to provide a satisfactory Criminal Record Check.
 
The above requirements are what MNBC is seeking in the ideal incumbent at the time of posting and are subject to change based on needs.  
Pursuant to section 41 of the BC Human Rights Code, preference may be given to applicants who self-identify as Indigenous (First Nation, Métis or Inuit). All qualified candidates are encouraged to apply.
 
PLEASE NOTE THAT CANDIDATES MUST APPLY using "Records Manager- #23-059" in the subject line of the email. Please send your resume and cover letter to:
 
Felix Ikem
Director of Information Management and Information Technology
Métis Nation British Columbia
Email:  fikem@mnbc.ca
Job Overview
Job Title

Records Manager

Employment Type

Full Time

Experience

3 years to less than 5 years

Rate

$83,000.00 to $95,000.00 Year

Education

Bachelor's degree

Date Posted

May 2, 2023, 11:06 am

Expires

August 2, 2023, 4:30 pm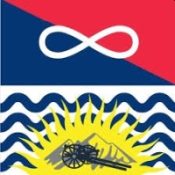 Metis Nation British Columbia