Métis Nation British Columbia
Communications Intern
#23-033
Communications

Position: Temporary 4 month contract (Full-Time (37.5 hours per week)
Location: HQ- Hybrid Provincial office – Station Tower (13401 – 108th Avenue, Surrey)
Closes: Posting will remain open until filled and will close without notice
Salary Range: $42,000 - $52,000

ABOUT MÉTIS NATION BRITISH COLUMBIA:
Métis Nation British Columbia (MNBC) develops and enhances opportunities for our Métis communities by implementing culturally relevant social and economic programs and services. Through teamwork, respect, dedication, accountability, integrity, and professionalism, MNBC strives to build a proud, self-governing, sustainable Nation  in recognition  of inherent rights for our Métis citizens, assisting in the delivery of services based on policy, process, and specified regulations.

MNBC's KAA-WIICHIHITOYAAHK (We take care of each other) Initiatives offers employees a competitive total compensation package including:
comprehensive group benefit package or health-care spending account and enrollment in the Municipal Pension Plan
15 paid days per year for statutory and
cultural days (Indigenous Peoples Day, Truth and Reconciliation Day, & Louis Riel Day)
carpool, parking & public transit subsidies (Provincial Office only)
educational spending account and professional development allowances to provide annual funding to continue lifelong learning and skills upgrade.
remote workplace supports.
internal advancement & redeployment opportunities

ABOUT THE OPPORTUNITY
We are seeking a highly motivated, team-orientated individual to join our Communications team as a Communications Intern. Reporting to the Communications Manager, the primary objective of the role is to coordinate the development and distribution of all MNBC communication materials.    

KEY DUTIES AND RESPONSIBILITIES
Assist in coordinating the development of internal & external publications for MNBC such as newsletters, releases, email announcements, planned publications, online, video, special projects, and assignments.
Assist in the development of all MNBC social media posts.
Assist in creating, designing, formatting, writing, editing, and producing print and digital materials, news releases, communications, event, and project-related materials.
Oversee MNBC website content, ensuring timely updates and accurate information
Liaise with other ministries to create informative content
Assist in meeting communication deadlines by establishing priorities and target dates for gathering information, writing, review, approval, and transmittal.
Assist with the development of program forms, surveys, templates etc.
Work with external partners and contractors on the development of culturally appropriate communication materials, graphics, and templates.
Pitch new communications ideas, goals, tactics for communication platforms.
Ensure the communications calendar reflects all planned communications.
Develop and maintain email distribution lists for MNBC.
Monitor analytics and create reports detailing the effectiveness of communications strategies.
Represent MNBC at community events across the province and engage the public about MNBC programs and services, as required.
Actively participate as a critical member of the Communications team to create solutions that advance the successful, efficient, and effective delivery of MNBC's Communications initiative

THE IDEAL CANDIDATE
Working towards a Degree or Diploma in Marketing, Communications, Business Management, Community Relations, or a related field.
A combination of relevant experience, education, and training will be considered.
Knowledge and/or awareness of the historical and contemporary contributions made by Métis people in B.C.
Previous experience working in an Indigenous Community, with strong knowledge of Métis culture and history, is considered an asset.
Knowledge or skill in graphic design, and design software is an asset.
Knowledge of Adobe Creative Cloud
Demonstrated ability to effectively communicate both verbally and in writing.
Ability to lead, problem-solve, and utilize team-building skills.
Proven ability to utilize strong interpersonal skills to deal with others effectively.
Proven ability to prioritize tasks, meet deadlines, and work with minimal supervision.
Proven ability to utilize, adapt and embrace new technologies, including Word, Excel and other database/software required by the role.

OTHER COMMENTS
Other duties may be assigned as needed to help ensure the efficient operation of MNBC.
There will be a need to attend meetings and events which may require work and travel outside of normal business hours.
Ability to provide a satisfactory Criminal Record Check.

The above requirements are what MNBC is seeking in the ideal incumbent at the time of posting and are subject to change based on needs.
 
Pursuant to section 41 of the BC Human Rights Code, preference may be given to applicants who self-identify as Indigenous (First Nation, Métis or Inuit). All qualified candidates are encouraged to apply.
 
PLEASE NOTE THAT CANDIDATES MUST APPLY using "Communications Intern - #23-033" in the subject line of the email.
 
In lieu of a cover letter please submit a news release, under 500 words, that goes into detail about a Louis Riel Day event in the Provincial Legislature hosted by MNBC.
 
Please send your resume and news release to:
 
Callum Robinson
Communications Manager
Métis Nation British Columbia
Email: crobinson@mnbc.ca
Job Overview
Job Title

Communications Intern

Employment Type

Full Time

Experience

Experience an asset

Rate

$42,000.00 to $52,000.00 Year

Education

Other trades certificate or diploma

Date Posted

March 24, 2023, 4:00 pm

Expires

June 24, 2023, 4:30 pm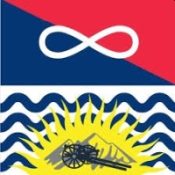 Metis Nation British Columbia